With the continuous onslaught of news, rhetoric, and the like, I wanted to take a moment to share some concrete data and information straight from the trenches. It's not what you'd think! Crain's came out today with
This
article titled "Home Prices Defy COVID Crisis." I'll dig into why.
I will try to keep it concise (it's finally decent outside, after all, go enjoy it!) to give you a glimpse of what we are experiencing in the real estate market right now, today, May 13, 2020. Feel free to scroll through directly to the data below!
It's been very interesting. Things were slow right when the stay-at-home order came out as everyone entered the "what's going on" phase. Those that did not "need" to sell pulled their homes off the market. Showings all but halted.
Not the case anymore. I think everyone, myself included, is realizing that life goes on and there are ways to stay safe yet still accomplish your goals. Like most industries, real estate has adapted with virtual meetings, showings, and walkthroughs. Most people won't buy a home without seeing it in person and I would never recommend doing so. I've been Zooming with clients and going over floor plans and photos in detail. Once a property looks interesting to a serious buyer we mask up and conduct an in-person showing.
For listings, we bring in a
360-degree camera
and do a full shoot so the consumer can "walk" the property virtually. It is buyers' expectation nowadays to be able to view properties online in-depth like this. Buyers that request in-person showings have already explored the property and the tire kickers and nosy neighbors can weed it out. I talk to the buyers' agents ahead of time to ensure they are serious so we know when a seller allows a buyer into their home it is worthwhile.
Side note, this is incredibly efficient. As brokers, we're always running ragged to show as many homes as possible but that hasn't felt like the right way to do it for a while. Now we don't need to leave our homes and can weed through the "maybes" to make sure the properties we view in person are worth everyone's time. Can we do this moving forward??
Now, on to the data. Data doesn't lie!
Here is the median price for the city of Chicago. 2019 was flat. Last year was tough; it was difficult to put deals together and there was a bit of apathy overall. Enter late 2019 and early 2020 and the market was off the races! The end of the line below is data as of today. Prices have continued to rise despite COVID!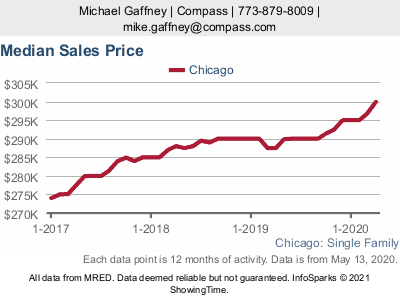 It's a result of short supply. First, we have been dealing with low supply for several years now. Think about all those multiple offer transactions you've either experienced first-hand or have heard about. Millennials are buying homes! There are a lot of us and not enough good homes in the most desirable locations. [By the way, remember when they said we'd rent everything forever to live a lifestyle of convenience? Ha!]

To add to this, people that don't need to sell right now are pulling their homes off the market increasing the deficit of supply. Inventory has tanked yet demand is still there. Serious buyers are looking and ready to rock. Leases are expiring and people are tired of paying rent. Americans' cash savings are strong, they have the dough to make a downpayment, and we can't put life on hold when we can safely buy and sell real estate.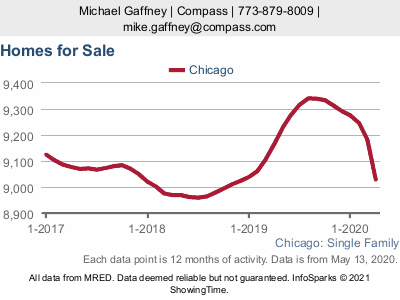 Aren't graphs and data exciting?! Put these two charts side-by-side and it paints a perfect picture of what we are experiencing right this second. Basic economics in real life. It's a beautiful thing.

One more graph. Newly under contract properties. Midwest is the dark orange line. The market's activity bottomed out around the first week of April (felt it firsthand) and for us, in the Midwest, we are right back to the same level of activity pre-COVID. Data doesn't lie! Also, what's up DC? Geez.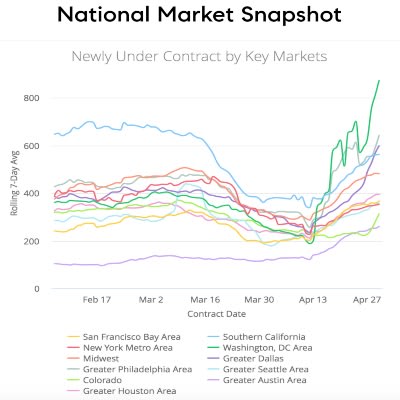 Ask any questions and I am always happy to discuss further!
Don't be a stranger!
- Mike